A state-of-the-art fitness center, and it's close to home!
Rosen JCC
Fitness Studio
We have it all: group fitness classes, personal training, and weight training and cardio machines. Plus, personal trainers are available to help you reach your fitness goals!
Why A Fitness Studio?
A more personalized workout. From intense classes on the fitness floor to a low-impact experience like yoga, we can tailor your fitness experience based on your needs and interests.
Get in and out fast. You'll never wait for a shower or circle the fitness floor searching for available machines. Our 55-minute classes are the most efficient, effective way to spend your time.
Everybody knows your name. Our Fitness Studio is a personalized experience, with each instructor offering personal attention to each participant. Private and small group training is also available.
No contract = no headache. Need to take a break, or need a change of pace? No problem. Cancel any time with no long-term commitment, just provide 30 days notice.
Get instant accountability. In our small group setting, participants become each other's greatest motivators.
Get real results. Because of the personal attention we give our clients and our modern equipment and workouts, our members quickly get on the road to total wellness–and stay on it.
Fill out the form to receive a FREE 1-week pass to the Rosen JCC Fitness Center!
Your JCC Membership Includes These Amenities
Free orientation and fitness assessment

Free group exercise classes

Free small group training

Free towels and locker rooms
Individual TVs on all cardio machines

RockBot jukebox – you choose the music!

Certified personal trainers on staff

Discounts on all JCC programs

Open 7 days a week with morning and evening hours
Personal Training Coordinator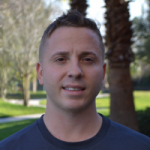 Certifications:
NASM – Certified Personal Trainer
NASM – Performance Enhancement Specialist
SCW – Kettlebell Expert
SCW – Fitness Nutritionist
Training philosophy:
Having a strong core and good base in the body will help in never hitting that gym "plateau". You cannot build a brick house on a weak foundation.
When it comes to fitness and working out, variety is king. Expect the unexpected while training with Niko.
Health and fitness have been part of Niko's lifestyle for many years. As an individual that lost 45 pounds, he knows what it takes to reinvent yourself. From mind and body to healthy habits, Niko loves talking about everything health and fitness. His recent goal is to be able to deadlift 400 pounds, which would put him in the top 10% for his age/weight group. When Niko's not training in the fitness center, you can find him training outdoors. He doesn't bite (hard).