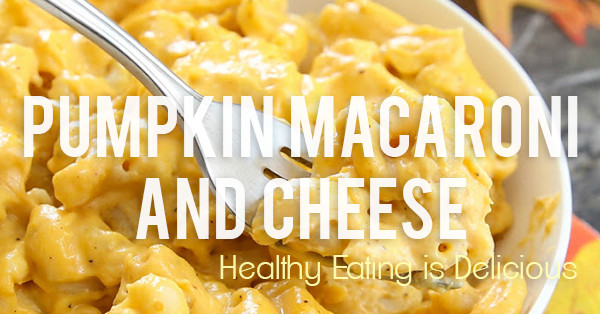 Pumpkin Macaroni and Cheese – Healthy Eating is Delicious!
It's that time of the year again when the daily high temperature is just barely below 90° so it must be fall in Florida! With Halloween fast approaching and the somewhat cooler weather it's time to hop on that bandwagon and put pumpkin in everything.
I know everybody's tired of the pumpkin spice, pumpkin beer, and pumpkin pie (okay, maybe not the pie) so I searched around for something a little different than the norm. Perfect for those fall nights when you just want to curl up with a blanket, it's Pumpkin Macaroni and Cheese.
Pumpkin Macaroni and Cheese
Ingredients
2 cups (8 oz) elbow macaroni
2 tbsp butter
2 tbsp all-purpose flour
1/4 cup low fat or fat free milk
1 cup heavy cream
1 cup shredded mild cheddar cheese (for a smoother sauce, freshly shave a block of cheese rather than using packaged shredded cheese)
1/2 cup pumpkin puree
1/4 tsp nutmeg
1/4 tsp black pepper
1/2 tsp dry mustard
Directions
Fill a medium pot with water and bring to a boil. Add in macaroni and cook until just done. Drain and pour back into pot.
In a separate small pot, add butter and flour. Cook on low heat, stirring constantly, until smooth slurry forms. Add heavy cream, cheese, pumpkin, nutmeg, mustard and pepper and continue to stir until smooth cheese sauce forms. I prefer to use fresh shredded cheese rather than buying pre-shredded, to keep the sauce from getting gritty. Once cheese sauce is uniform, stir in approximately 1/4 cup of milk to thin out sauce. If you feel your sauce is still too thick, you can add another 1-2 tbsp of milk.
Pour 2/3 of the cheese sauce into macaroni pot, reserving about 1/3 of the sauce, and stir until all noodles are completely coated. Dish out pasta and pour remaining sauce on top. Eat immediately. (The sauce gets clumpy when cold. The best way to reheat is on the stovetop, adding a little milk to smooth out the sauce again.)