Experience a whole new class of enrichments.
The Fall 2019 Program Guide features more than a dozen new programs, with options available for all ages.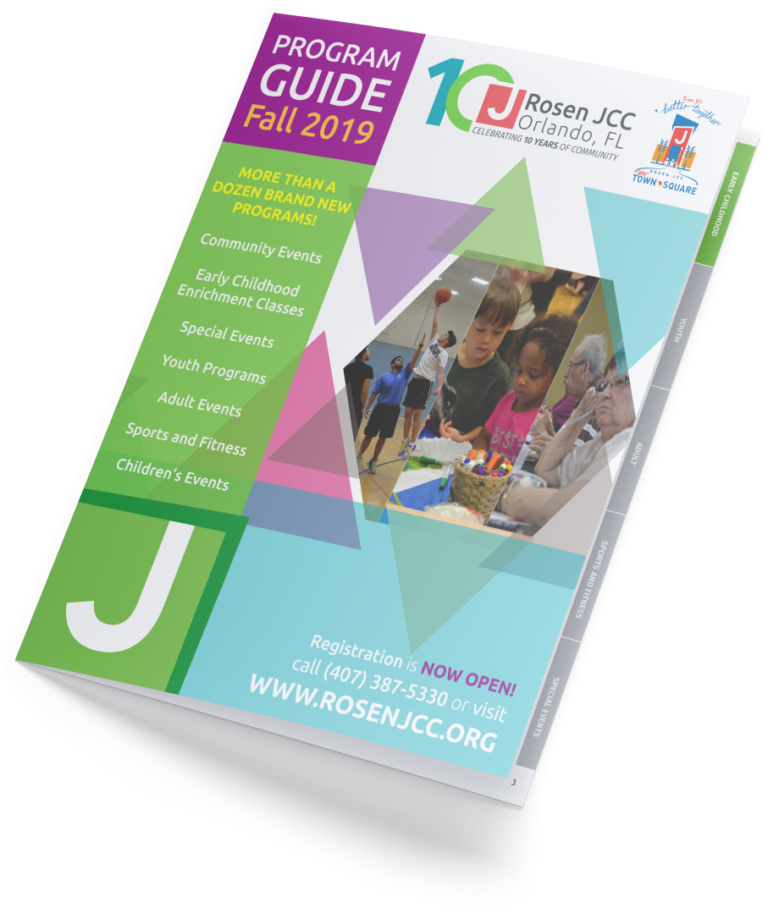 Early Childhood Learning Center
Infants to Pre-Kindergarten  |  Registrants must meet minimum age requirements by 9/1/19.
Learn the basic fundamentals of dance technique, focusing primarily on ballet, using songs and games. Ages 3-4
Explore literacy and culinary skills! Each week we will discuss a new book and cook a tasty treat! Ages 3-4
At a special new offering just for VPK's – dancers will become acquainted with a variety of dance skills, such as lyrical, ballet, and hip hop. Ages 4-5
Learn to dance the Flamenco – a Spanish art which develops gross motor skills and coordination. Children will work on arms and feet techniques to learn postures, style, and elegance. ​Ages 3-4​

The golf pros from TGA Premier Junior Golf teach basics through song, art, and fun activities.
Ages 3-4
Enhance your child's motor skills through the love of sports and active games. Ages 2-5
Victory Martial Arts empowers your child through discipline and self-defense! Includes t-shirt, bag and belt. Ages 3-4
Theme: How I Became a Pirate
Use creative play, improvisation,
storytelling, and theatre games to explore the actor's toolbox of body, voice, mind, and imagination. Ages 3-4
Master the ukelele while learning about music, rhythm, and instruments. Ages 3-4


Your child will learn basketball skills and techniques the improve their game and have fun! Ages 3-4
Pop Squad: Junior Varsity
For enthusiastic cheerleaders-in-training looking to learn the basics of motions, jumps, and mini routines. Ages 3-4


Each week will focus on a different artist and their art philosophy, including charcoal self-portraits, drip paintings, unique clay sculptures and more! Ages 3-4


Students use rock and pop songs to learn about rhythm, song structure, melody, and dynamics through play. Students will be divided into bands and will learn songs and the stagecraft needed for performance, followed by a live performance at the end of the session.
This gymnastics class is designed to help develop motor skills, socialization, balancing, and tumbling. Age 2
Bond and move with your baby to music using props and instruments, all while meeting other parents and developing friendships. Infants-10 months


HappyFeet uses songs, stories, rhythms, and games to maximize imagination and develop gross motor skills. Ages 3-4
Hola amigos! This course is a dynamic and engaging way for kids to learn the Spanish language through age-appropriate activities. Ages 3-4
Learn techniques for basic flips, tumbles and jumps, while developing coordination and flexibility. Ages 3-4
Explore the world of music through the use of different props and instruments. Ages 18 months-2 years


Learn the basic fundamentals
of dance technique, focusing
primarily on ballet, using songs and games. Ages 2-3


The following Enrichment Programs are for children in Grades K-5. Grade level varies by Enrichment Program.
Learn how to bake all your favorite desserts in the JCC kitchen. From cookies to cakes and everything in between! Grades K-3
Learn to play bridge while developing social skills, sportsmanship, and teamwork. Playing bridge is shown to improve academic test scores! Grades 4-5
TGA Premier Junior Golf teacher the game while developing patience, integrity, and respect. Grades K-5
Performers will strengthen their creativity and confidence by spontaneous character creation in fun exercises and scene work! Come ready to laugh! Grades 1-3
Learn the basic fundamentals and their of dance, while focusing on the latest jazz technique. Grades K-5
If you have a young filmmaker, this program takes students behind the scenes as they learn how to make their own short films, turning class time into movies that they'll keep forever. Grades 2-5
Oh, the Places You'll Go!
In this musical theatre based class, students build an original story through carefully structured creative play and musical theatre instruction, inspired by fun and exciting characters!
Grades 1-3
From motions, jumps, and stunts, cheerleaders will form their very own squad and learn how to (literally) lift up their friends! Grades K-5
Get started on piano, violin, and guitar! Lessons are available in 30-minute increments. Monday and Wednesdays.
Contact us for more information or to check availability at (407) 387-5330.
Students will be introduced to piano and melody and pitch skills. They will learn to sing along with their favorite artists and build breath support, tone, and power through singing. They will learn performance skills through voice exercises and vocal training. Ages 5+
Contact us for more information or to check availability at (407) 387-5330.
Students use rock and pop songs to learn about rhythm, song structure, melody, and dynamics through play. Students will be divided into bands and will learn songs and the stagecraft needed for performance, followed by a live performance at the end of the session. Grades K-5
Victoria TKD empowers your child through discipline and self-defense! Belt and testing fees included. Grades K-5