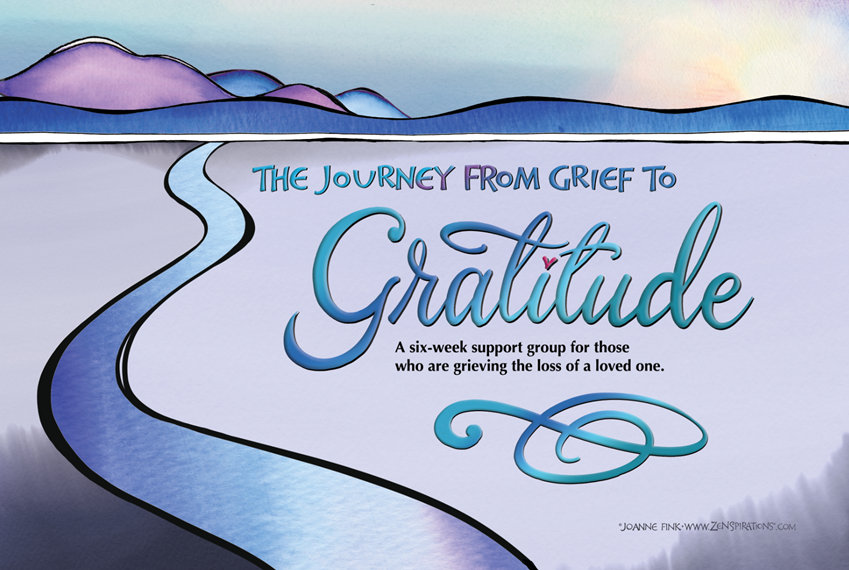 Time
2:00 pm - 3:30 pm
Cost
$10
The Journey From Grief To Gratitude
Join facilitators Joanne Fink and Cassie Yde for a 6-week course where you will find compassion, renewed strength and learn valuable keys to living a meaningful life after loss. Come share your journey with others… you need not walk alone.
Please note that this course is limited to 10 participants, and costs $60 per person for the six-week session.
ABOUT THE FACILITATORS:
Joanne Fink
Joanne Fink is an award-winning designer, inspirational speaker and best-selling author with more than one million books in print. A widow support group leader, Joanne creates commemorative art and develops products to help others navigate the grief process. She has led seminars and workshops across the globe and has been featured on NBC; interviewed on podcasts including Grief Diaries, Coming Back and Live Happy Now, and presented at The Compassionate Friends national conference, Camp Widow, and the International Grief Cruise.
After suddenly losing her husband in 2011, Joanne began journaling as a way of getting through her loss and shares excerpts from her personal grief journals in her illustrated memoir, When You Lose Someone You Love. She features inspiring art, helpful articles, and offers extensive free resources for the bereaved and those supporting someone on their grief journey on the companion.
Website: whenyoulosesomeone.com
Joanne's newest book, My Spiritual Journey, helps others determine their personal purpose at this point in their life. For more information on Joanne and her work, visit zenspirations.com.
Cassie M. Yde
Cassie M. Yde, a leader in the widow support movement, began her grief journey when her husband Bob died after a long illness in 2006. Cassie knows first-hand that the loss of a spouse is life changing. In 2007, she attended a grief support group at Florida Hospital, facilitated by Chaplain Mark Stoddart, who encouraged her to use her talents to bring hope and healing to others. She initially co-facilitated grief support groups with Chaplain Stoddart and has continued this work for groups throughout Seminole county over the past decade.
Cassie is an active member of her church, and currently serves as the Chair of the Preschool Board. Cassie and her late husband started The Television Syndication Company, which recently celebrated its 30th anniversary, and she has continued to honor his legacy through her work. She loves to travel and makes a difference in the world through the many programs she works on, such as her work in Gaitu, Kenya, raising money to build a permanent medical clinic to help village children in this improvised area to have a better life. It is Cassie's desire to help others along the rocky road of grief as a way to honor her late husband's life.
Hourly Schedule
February 16
February 23
March 1
March 8
March 15
March 22