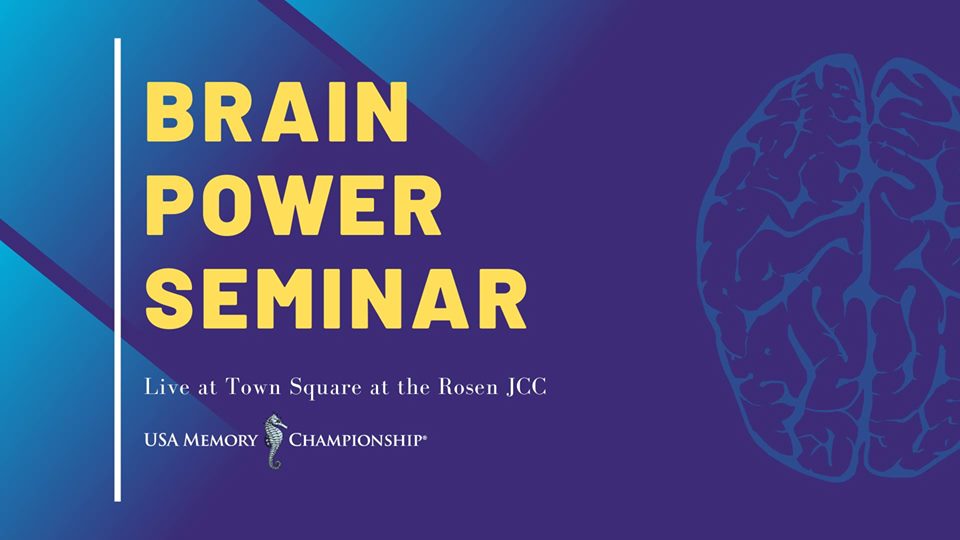 Date
Jan 14 2020
Expired!
Time
Afternoon Session Also Available
7:00 pm - 8:30 pm
Brain Power Seminar
Open to the community!
Exciting New Brain Power Seminars!
Nationally renowned experts who host the US Memory Championship, as seen by millions around the world on Netflix's Memory Games.
COME TO THIS SEMINAR AND CHANGE YOUR LIFE!
Retain greater amounts of information to utilize in school and at work
Outperform colleagues in the workplace for success
Grow your ability to retain dates, names of people, numbers, and ideas
Unleash your creativity
Unlock the key to emotional intelligence
Build stronger, more meaningful relationships
"This seminar is a total game changer! I used one of the techniques to memorize a 23 page operating procedure manual, and we passed our latest inspection with flying colors!"
"This program strengthened my mind in ways I never imagined!"
"Literally, every one of my mental activities, from creative thinking to communication, has been improved!"
Hourly Schedule
Two Convenient Times
3:00 PM

-

4:30 PM

Afternoon
7:00 PM

-

8:30 PM

Evening
Five Sessions
11

-

7 Th

Session 1

Free!
11

-

12 Tu

Session 2

Free!
12

-

3 Tu

Session 3
1

-

14 Tu

Session 4
1

-

21 Tu

Session 5